AGT Global is the Proud Sponsor of the 2021 Top Woman-Owned Business in Transportation Award
We are the proud sponsor of the Women In Trucking 2021 Top Woman-Owned Business in Transporation award.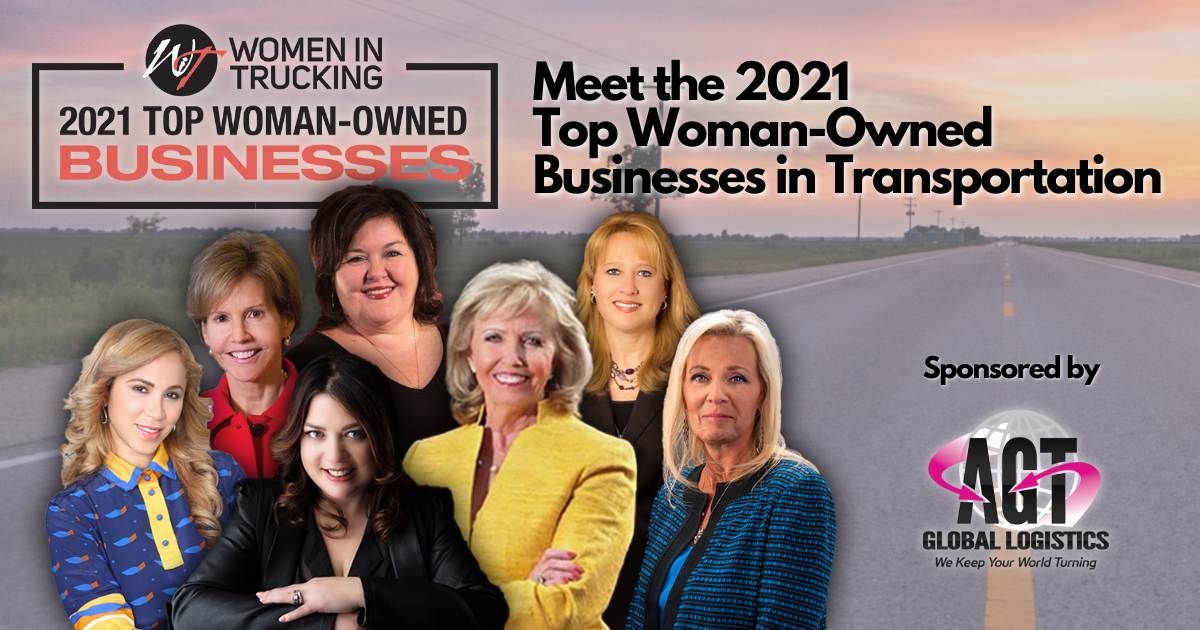 This award means a lot to us. AGT Global Logistics is fortunate to have been awarded this honor since its inception in 2019. 
The award is given to businesses with majority-woman ownership that demonstrate financial stability, innovation and entrepreneurial spirit. Each company is nominated and chosen for business success and accomplishments – including factors related to gender diversity and support of women in the industry. 
As a past winner, this award has opened doors for us. Through media mentions, additional interviews, industry recognition and conference presentations – being recognized as a Top Woman-Owned Business and we want to extend that opportunity to others.
We congratulate this year's Top Woman-Owned Businesses in Transportation who will receive their awards at the 2021 Women In Trucking Accelerate! Conference on Nov. 8, 2021 in Dallas, Texas.
Congratulations to –
Aria Logistics (Arelis Gutierrez)
Bennett Family of Companies (Marcia G. Taylor)
Brenny Transportation (Joyce Brenny)
Candor Expedite (Nicole Glenn)
Conversion Interactive Agency (Kelley Walkup)
Garner Trucking (Sherri Garner Brumbaugh)
K & J Trucking (Michelle Koch, Sharon Koch Estate, Jessica Mitacek)
Kenco (Jane Kennedy Greene)
Knichel Logistics (Kristy Knichel)
Powersource Transportation (Barb Bakos)
Rihm Family Companies (Kari Rihm)
S-2international (Jennifer Mead)
Sunset Transportation (Lindsey Graves)
Topel's Towing Service/Topel Truck Center (Michelle Sukow)
United Federal Logistics (Jennifer Behnke)
Veriha Trucking (Karen Smerchek)